Today, Bollywood cinema has traveled all over the world and has humbled itself in the hearts of many. In abroad, I think it is basically the refuge found under the shed of "reel" life and the admiration for some particular actors, mixed with the curiosity for the beautiful cultures and traditions of India which attracts so much traffic.
And, if you talk about the wonders of Bollywood, it's no secret that Yash Raj movies form part of the ground-breaking package.
So, let's discover some of the amazing movies made by Yash Chopra and his majestic empire.
#1. Dilwale Dulhania Le Jayenge (1994)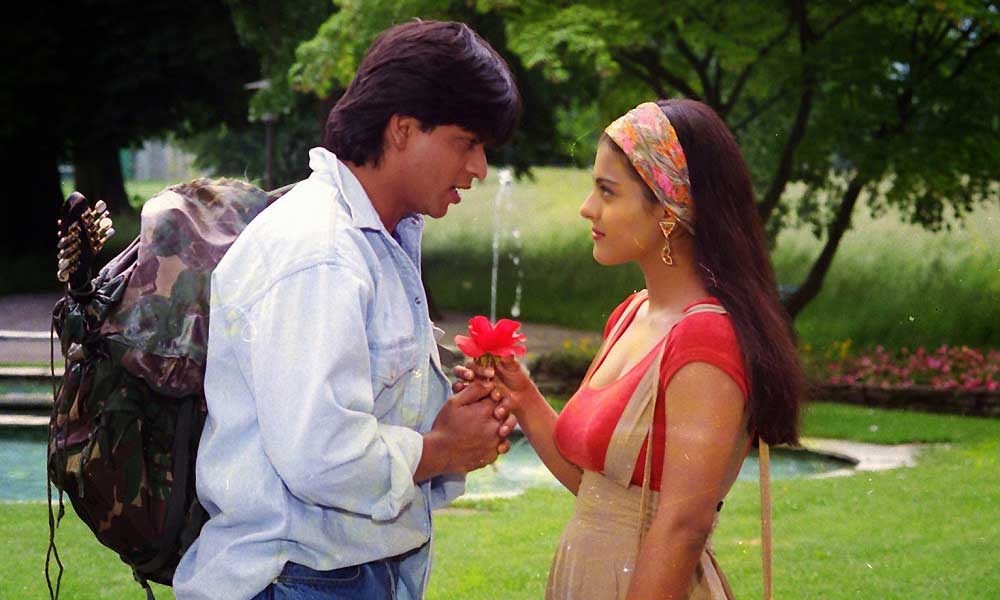 If you are a fan of Bollywood cinema, then it goes without saying that you must have watched Dilwale Dulhania Le Jayenge multiple times.
Most commonly known as DDLJ, this 1995 romantic Indian movie features the superstar Kajol and the King of Bollywood – honestly, this man needs no introduction at all, heck, he is so popular that even the Luna Society International has named a crater on the moon after the actor.
This great treat tells the love story of Raj, a rich and carefree young man who falls in love with Simran, a young woman who has great respect and admiration for her father and his Indian values, but always dreams of the stranger of her dreams with whom she would fall in love.
If you'd asked me, what I loved about this movie, I would say……… Well, can I just say all of it?
From every look of love till every tear shed, every laugh, every smile, every song and every word the main characters spoke – I'd say this movie is the "Picasso" of Indian Cinema.
With his cheeky grin, his naughty pranks and even his efforts to win over Simran with his pickup lines he uses all the time when they are both stuck in the train compartment had me swooning all over the place.
Another character that added more points to the movie was Raj's dad (played by Anupam Kher), who is the kind of father who doesn't reprimand his son for failing his graduation and encouraging him to chase his love. What a great bond between father and son!
Another character that I absolutely loved is Simran's mother whose only wish is to see her daughter happy in life.
And, who can forget the epic train sequence in the ending scene, where Simran's father finally lets go of her hand, saying ""ja Simran ja, ja jee le apni zindagi" and when Simran finally reunites with Raj on the already-moving train.
Oh, and before I forget, the reason why I am still tolerating this miserable life is because of this one line…. Never mind Senorita. In big, big countries, such small, small things keep happening.
*swoons*
#2. Veer-Zaara (2004)
As someone who has watched almost all Shah Rukh Khan's movies, I have to mention how Veer-Zaara deserves to be mentioned.
Released in 2004, the romance journey set by Yash Chopra is told through different flashes of past and present movie sequences, recounting the selfless, pure and unconditional love between an Indian Squadron Leader Veer Pratab Singh and a Pakistani girl Zaara Haayat Khan.
Though the romantic storyline has something quite familiar with other movies, the timelessness of the love story is still relatable today even among young generations.
As a sentimental story that always touches both Indians and Pakistanis, Veer-Zaara has found a place in the list of top Yash Raj films of all time.
And, I won't hesitate to say that I still cry today when I rewatch the scene where both Veer and Zaara walked to each other at the end of the movie.
#3. Lamhe (1991)
Although this movie goes way back to the late 20th century, I've no word to explain why this film is known as a breakthrough movie that redefined romance in Bollywood.
Maybe it's the interesting plotline (which I'm not going to spoil as I know most maybe haven't watched it. Yet). Or, the outstanding role played by the legendary Sridevi, the real goddess of Bollywood.
All I can say is: Watch it, guys.
If you are a Bollywood fan, I don't think I need to chase you to follow the second part of this article series. (You'll come on your own.)